The following maps and guides are considered essential for hiking these trails:
On Foot to Fundy – Hiker's Guide Book* "Dobson Hiking Trail" (English):
from Riverview, New Brunswick to Fundy National Park's Eastern Boundary. Includes topo map, trail description, access points.
Fundy National Park Trail Guide (English – French):
topo map , descriptions of trails , access points
Fundy Footpath – Hiker's Guide Book* (English only):
from Fundy National Park's Goose River Trail to the Fundy Footpath access trail continuing to the Big Salmon River Interpretive Centre: 700 metre scale map, trail description, tide charts, access routes.
*The selling price of these guide books includes a contribution towards some of the trail maintenance costs incurred by our dedicated volunteers, shipping and handling is extra – We thank you for your contribution.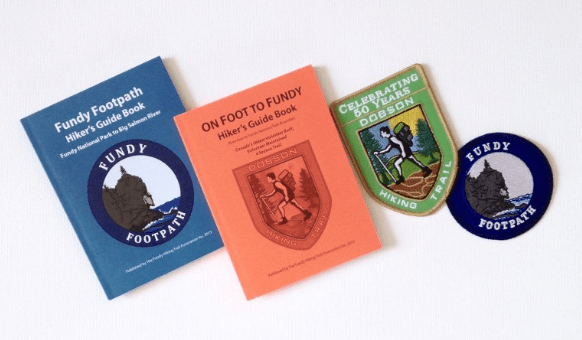 Where to Find Guide Books & More:
Read's Newsstand: 620 Coverdale Rd, Riverview.
Cleve's Ocean Trail Source For Adventure: 57 Wyse Rd, Moncton ( + Patches + Footpath T-Shirts ).
The Outpost at 8590 Main St, Alma
Outdoor Elements: Sussex
Outdoor Elements 8584 Main Street,  Alma
Adair's Wilderness Lodge: 900 Creek Rd /Shepody Road
Radical Edge: 386 Queen St, Fredericton
The Tail Shop 6112 Quinpool Rd, Halifax NS  902-423-8736
The Kayak Exchange: 94 Rideout, Moncton  (+ Patches) On site or order: Guides, Patches
Big Salmon River Interpretive Centre: St Martin's (+ Patches)1 866-386-3987 info@fundytrailparkway.com
River & Trail Outdoor Company: 47-D Clark Road, Rothesay (+ Patches + Stickers) 506-849-7717